BIO
---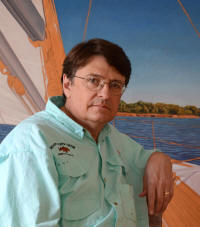 David Baker is a realist painter, living and working in San Antonio, Texas since 1995.
Over the years Baker has painted a variety of figurative work ranging from portraiture, figurative landscape, and geologic detail. These varied subject share a common concern for intimate detail combined with formal composition and a realist eye for structure and surface. Influences include French realists of the 19th century, '30s era American realists, and more contemporary figurative painters of the late 20th century.
Baker recently concentrated on details of classic, homebuilt, and vintage aircraft with special attention to the intersection of surfaces and planes of aircraft materials. The work is an examination of mechanical form and materials, often with interesting plays of light, color, reflection, against the sky beyond.