BIO
---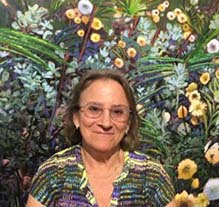 Living on the land is a daily personal relationship with nature that goes beyond environmental or recreational tourism. For many, this type of brief, albeit intense, exposure to a non-urban environment is the only remaining means of interpreting nature.
I really did choose the road less traveled thirty six years ago. And I can testify that ranching and raising a family in South Texas is no picnic at Enchanted Rock. It is not a walk down a discreetly graveled path in the "primitive" area of a state park. It is the long haul down an unpaved road; the drought, the flood and the isolation. It is taking the bitter with the better. Living on the land exposes the immediacy of one's impact, and the difficulty of finding a balance between the subjective urge to control and the objective recognition of the brevity of our tenure. It is a life endowed with all the characteristics which modern society mourns as lost: responsibility, commitment, wonder, and peace of mind.
When I was younger, my work was figurative and biographical and took a turn for the narrative, as every thing I saw and did seemed to have a certain timeless, mythological resonance. At the time, I felt it was a way to take a new look at the old myth of Texas ranch life.
More recently I seem to have eliminated the human narrative entirely, except as occupant observer. My work is still essentially biographical and certainly has something to do with aging. I am the documentarian of this particular and familiar slice of South Texas. Recording its fierce beauty and implacable solitude is sufficient expression of my presence.
To view works from other artists return to