NEW WORKS. Virtual Show featuring Kent Rush
This virtual show premiered October 22nd of 2020 and is currently scheduled to run through November 14th. This is the second installment of our evolution in engaging with art galleries. In person showing available by appointment. Dropbox available upon request. Call Hunt Gallery today at (210) 822-6527 for additional details.
BIO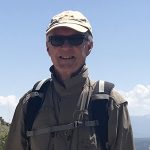 Kent Rush was born in Hayward, California in the rural hills of the East Bay Area. In his formative years he absorbed the cultural milieu of Beat poetry, American Zen, Figurative Abstraction, Photo Realism and Funk Art. He studied art in high school under Nicolas Roukes then entered California College of Arts and Crafts (CCAC) in Oakland under the flower child glow of counter culture. He became a printmaking concentration under Robert Bechtel and Charles Gill. The thrill of art school was soon, however, eclipsed by the dark days of the Vietnam War and the chaos of student unrest. In Rush's final semester (1970) CCAC was closed to become a poster factory for the anti-war movements.
A few years later (1973), Rush entered graduate studies at the University of New Mexico under Garo Antreasian and served as a printer's assistant at Tamarind Institute of Lithography. Upon graduation he accepted a position to start up a printmaking program and teach at the then San Antonio Art Institute (1975). This move began Rush's long engagement with San Antonio and the art community of South Texas.
After a short stint back in California teaching at CCAC and the San Francisco Art Institute (1979-1982) Rush has been in San Antonio since 1975. He returned from California to accept a professorship at the University of Texas at San Antonio in 1982. In 1991 he married Haydeé Victoria Suescum and they have continued to be partners and co-conspirators in art and life.
For all of his life (beginning with pencil drawing in the borders of the church program as a child) Rush has been an active artist in drawing, printmaking, photography and painting/collage. He has exhibited consistently and widely. He retired from teaching in 2018 and is now on an extended artist-residency in his home and finely equipped studio in Terrell Heights, San Antonio, Texas.
---